Medical
INJECTIONS, FILLERS, & IV MINERAL THERAPY
| | |
| --- | --- |
| Botox Cosmetic | $12/ unit |
| Vitamin B-12+ MIC | $35 |
| Energy IV Therapy | $150 |
| Reboot/Hangover IV Therapy | $180 |
| Beauty IV Therapy | $200 |
MICRONEEDLING
Before & Aftercare Required (call/email or text to inquire 314-254-0124)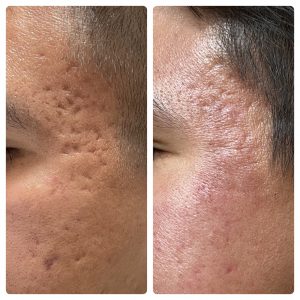 Before & After 1 Treatment
Microneedling
1 hour - $250
This innovative procedure is minimally invasive with little down time while stimulating collagen and elastin production in the skin. This treatment uses a device with fine needles that create tiny punctures on the in the top layer of the skin which triggers the body to create new collagen and elastin. Results include improved texture and firmness as well as reduction in scars, pore size, and stretch marks.
MICROSHADING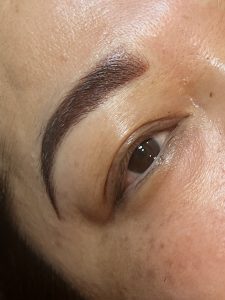 Before & Aftercare Required (call/email or text to inquire 314-254-0124)
MUST SEND PHOTOS OF BROWS BEFORE BOOKING
Initial Session Blading & Shading
2 hours | $400-500
Unlike microblading, microshading does not tattoo full strokes along the browline. The results will not appear to be individual eyebrow hairs, but rather a shading that more closely resembles penciling or powdering your brows with makeup.
6-8 Week Touch-Up
1 hour | $100-200
LIP BLUSHING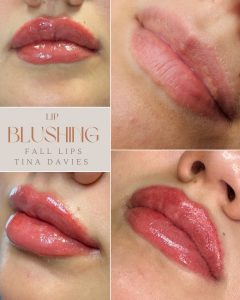 Before & Aftercare Required (call/email or text to inquire 314-254-0124)
CONSULTATION VIA TEXT/VIDEO MANDATORY PRIOR TO SCHEDULING
Lip Blushing Initial Session
2.5 hours | $500
Lip blushing is a semi-permanent tattoo that can enhance the color and shape of your lips and give the impression of more fullness. This is done by depositing color ink into your lips and along your lip line to improve the overall look.
Lip Blushing Touch-Up
1 hour | $150
6 weeks post initial session
CHEMICAL PEELS
Our products are scientifically formulated using all-natural ingredients such as alpha and beta hydroxy acids, trichloroacetic acid (TCA), peptides, retinols, antioxidants and advanced botanicals. This product is applied to the skin to remove dead skin cells and to stimulate the production of new cells. This is ideal for those with dehydrated, aging, acneic, scarred, blemished, and discolored skin.
Custom Peel
45 min
– $160-320
Consultation recommended, pre-care recommended, comes with post procedure kit or customized travel size daily care products.
-NoPeelPeel $160
-PCA Peel w/Hydroquinone $170
Sensi Peel $180
-Ultra Peel $200
-4% Retinol Peel $270
-6% Retinol Peel 320
Add-on neck & décolleté
$75
MICRODERMABRASION
Microdermabrasion is a skin resurfacing treatment that diminishes the appearance of wrinkles and improve skin texture and color by removing the top layer of the skin leaving it more supple and vibrant. Skin resurfacing also stimulates the elastic tissue beneath the surface of the skin resulting in a healthier and firmer appearance. A wonderful alternative or complement to chemical peels, the Diamond Tome™ Skin Resurfacing treatment is non-invasive, pain-free and requires no downtime after treatment.
Face
30 min
– $100
Face & Neck
30 min
– $110
Face & Hands
45 min
– $145
Facial, Neck and Décolleté
45 min
– $125
Facial Add-on
15 min
– $55
This service would be a great addition to any of our facial services.